Article Summary:
Page 1: Magazine3, Theme-Junkie, Theme Forest, Elegant Themes, InkThemes
Page 2: Theme Shift, Theme Fuse, WPNOW, Themify.me, Theme Trust
Page 3: Mojo Themes, Templatic, Frogs Themes, Obox-Design, Theme Labs
Page 4: DIY Themes, StudioPress, Dream-Theme, App Themes, UFO Themes, 
Page 5: , Lizard Themes, Themezilla, Organic Themes, Page Lines, Woo Themes, BONUS: CodeCanyon
Simon Rimkus is the German web designer and WordPress expert who single-handedly created, managed and grew his business: Theme Shift. It is incredible that one man was able to handle the creation, design and web layout of each theme, and also offer customer support fir his clients. The great thing about ThemeShift is the fact that it offers great looking, clean WordPress premium themes, that have easy codes and a myriad of inbuilt features and functionalities. Furthermore, the themes available at the moment are suitable for any type of business or website. 
 The ThemeShift provide 18 high-quality responsive WordPress themes in their archives in categories of CMS themes, business themes, free themes, blog themes, portfolio themes, revolution ready themes. Each ThemeShift theme comes with an auto install feature which allows you to populate the whole site with dummy content by just pressing a button.
Theme Functionality:
The Themes from Theme Shift are extremely well structured, seamlessly coded and easy to install. A unique feature that you might enjoy is the 3-language theme translation which allows you to translate content to English, German or Spanish. Furthermore, you can play with the colors of the theme, the fonts, and upload your company's logo and pictures. It also comes with a unique multi-dropdown menu, search and comments form validation, and threaded components. Themes are made with the help of CSS styles for navigation plugins. As far as theme graphics are concerned most of them have a monochrome design (as you will see below) because they are mainly focused on the content of the page. In the graphics department there is really not much to say because most themes are without interesting effects or color accents. 

Pricing and Plans:
Because the company is German, prices are naturally, in euros. Each theme costs 39 euros, which is actually quite affordable if you were to compare them to other themes with similar features. There is also an all-in-one package available that gives access to all themes. If you require many themes at once, this price will prove advantageous.
Costumer Support:
As we already mentioned, all support is given by Simon, but because he is no superhuman you might find it difficult to reach him when out of town. You can leave your questions in English, Spanish or German on the support forum, but don't expect a quick reply.
Testimonial: "I love Simon Rimkus' expertise when it comes to WP themes which make it a lot easier for me to design and manage my website. Theme Shift has the most well structured WP themes I had ever seen in the industry which made them an instant choice in my WP theme needs for my website. You won't have a problem at all and everything on your site will be smoothly running with their excellently coded themes, good job Simon!" (Source: ThemeGrade)
BEST THEMES:
ThemeFuse is all about providing webmasters, bloggers and business people with an easy way of launching a WordPress site from ground up. In other words, even if you are a complete and utter noob, you can still make things work. In order to use the service, one must choose e theme from the gallery, have it installed by the team, on a domain of his choosing, and an optimized platform. The reason for which we appreciate ThemeFuse is because that the only thing that you, the client, have to do, is to pick a theme, a name, and you're done. While many believe that it is mainly dedicated to noobs, we believe that it is suitable for anyone that does not have time to set up everything on his own, and would rather have it prepared by someone else.
Service Functionality
The product is mainly directed to beginners (note that it can also be used by people who do not have a lot of free time on their hands). Considering that it is a product designed for beginners, by experts, you might be tempted to think that it suffers from the curse of knowledge (when your scope of knowledge is so broad that beginners cannot understand it). Wrong! The instructions are extremely simple to understand by anyone.
ThemeFuse isn't just a site for WordPress themes, because it offers full packages for people. These packages include: the WP Theme for 49$, a WebDomain for free, and the Site Hosting for 69$/year. You can go with the complete package, and by clicking on it you will be redirected to the theme library, where you can chose the theme that you like. The domain is free for the first year, if you decide to purchase the full package. The payment process is pretty standard, especially if you are using Paypal, and in only a matter of minutes (fifteen to be more exact), you will have your very own, fully-functional website. To sum up, the service is pretty amazing, and what stands out most is the ease of use. Instead of having to go through all these steps:
Get a domain.

Choose and buy a hosting account.

Connect the two together (not always that simple).

Install WordPress (either by hand or through an auto-installer).

Get a theme and upload it to your hosting account.

Install the theme itself.
You just pick a theme from ThemeFuse and the setup process handles everything for you.
BEST THEMES:
[highlight color="black"] FREELANCER [/highlight]
[highlight color="black"] COLLECTIVE [/highlight]
[highlight color="black"] AUTO TRADER [/highlight]
[highlight color="black"] CONEXUS [/highlight]

[highlight color="black"] METRO VIBES [/highlight]

[highlight color="black"] WEDDING [/highlight]

WordPress Now is a great theme provider which designs some of the best Premium WordPress themes with the help of its talented crew of developers and designers. Most customers were extremely pleased with their purchases, especially considering that most themes take full advantage of the most important WordPress features, gadgets, JavaScript multiplayer drop-down menus and threaded comments. If customization is a hidden passion you will be happy to know that all themes are fully customizable, and they also support a myriad of plugins that come pre-installed with every premium theme purchased. The company takes great pride in providing the latest WordPress technology, and their fully web-engine optimized features that will draw more traffic to your website.
Theme Functionality:
WPNow's main concern is to provide its clients with the best premium themes that feature top functions. Therefore, their top-notch technology and sophisticated gadgetry, which sounds complicated but is actually very easy to use will provide you with the best web design and SEO capabilities. Themes include eye-popping graphics, spider-friendly smart-linking and search engine optimized h1 tags. Also, all of their coding is faster which means that your site will load faster, and thanks to the widgetized custom sidebar which is social media ready for marketing purposes.
The function of the Cascading Style Sheet is known to be ten times quicker than the other style sheets which is a great feature not only for developers, but for your online visitors as well. The company also features an easy one-click WP theme options panel, making it easier for you to design and customize your own websites.
As far as Theme Graphics are concerned, WPNOW can easily be compared with ElegantThemes. Although other providers boast over 30 types of themes, WordPress Now only has 12, incredibly useful and beautiful themes. We will enumerate them below.
Price and Planning
Each theme costs approximately 49$ but you can get the whole bundle for a modest 99$. Considering the solid code framework, and perfectly customized themes, the price is great. We have no more details about their pricing, because it seems that their price category is not working.
BEST THEMES:
Elements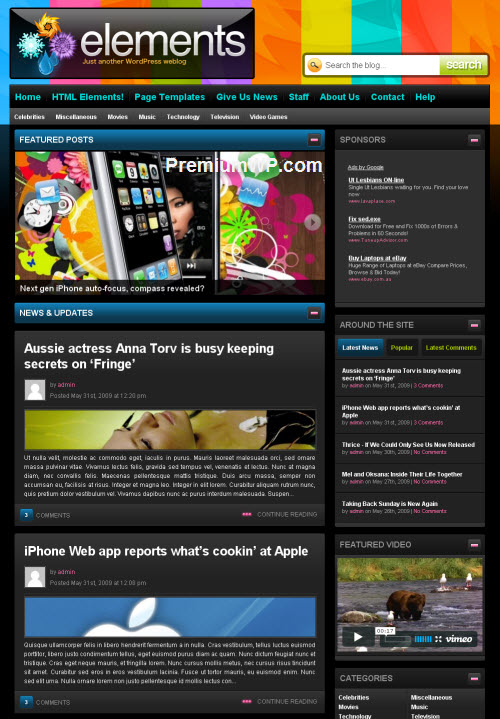 Demo & Release Page | Purchase
Bloom
Triumph


Are you looking for premium WordPress themes that have that little extra that most other Theme providers do not offer? Then you should check out the Themify website. Also,  if you do not have a lot of free time on your hands, Themify might also be of help, because it boasts invariably elegant themes which can be used out of the box. But this is not even the best part. The best thing about Themify is its framework. The Themify framework can be employed to tweak with the style and functionality as you wish, without having to code even one line. Apart from the framework, you will also receive a complete series of widgets to display dynamic content, and engage visitors even more.
What once was a simple blogging engine has blossomed into the "go to" Content Management System (CMS) and underpinning for many of today's websites. Its flexibility, ease of use, and expandability make it easy for many to create an engaging and modern website. (Source: MakeTechBetter)
Theme Functionality:
As you can probably already tell, there are hundreds (maybe even thousands) of so-called premium WordPress themes, so it might be a bit difficult to choose the perfect one. Instead of going for the first theme that looks great in the demo version, you should check around to see what features it incorporates. There are three elements that are essential for every theme: easy customization, design and usability. Luckily, Themify.me offers all of them in one powerful package.
Their themes really have it all. Its dashboard is a true pleasure to work with, because you can adjust the sidebars, footer code, search settings, default layouts and social links as you see fit. Furthermore, you can also stylize everything from background to body font or sidebar elements, everything without having to edit the code. Themify offers over 40 themes, many of which are responsive. 
They have also included a great new feature called Themify Builder which can be purchased separately, as a plug-in. It enables you to lay out pages and posts with more finesse and ease than shortcodes alone. You should definitely check it out.
Price and Planning:
In all the above options, along with theme(s), the club provides theme updates and support for all one year.
Testimonial: 
I'm in Love! You might be able to tell by now but I really love the themes from Themify, they met, and continue to meet my needs for a decent out of the box theme, with plenty of options and easy to customise. (Source: ApinaPress)
Customer Support:
As if their theme's functionality and design were not enough, they also offer great customer support. The support forums are first-rate: fast responses, always giving solutions to problems.
BEST THEMES
[highlight color="black"] 1. Elemin [/highlight]
Elemin theme is a simple but bears every fruit a person looking for his/her next website. It has a good sense of typography, great white space balance and minimal graphics. The theme design is completely fluid and responsive in nature while it being crafted with modern technology.
[highlight color="black"] 2. Fullscreen [/highlight]
Fullscreen theme is the combination of minimal design, responsive layout and full-screen gallery.
[highlight color="black"] 3. Pinboard [/highlight]
Inspired by Pinterest, the Pinboard theme features an auto stacking layout with infinite scroll just like the way one can notice on Pinterest. The new posts are loaded automatically when one hit to the bottom of the page, thanks to infinite scrolling.
[highlight color="black"] 4. Metro [/highlight]
Inspired by Windows 8, Metro theme is a responsive, minimal and colourful theme which can suit every blog and/or portfolio sites style. The theme comes with nine different colors based on Windows 8's Metro look.
[highlight color="black"] 5. Parallax [/highlight]
Parallax theme is a perfect choice if one is looking for the combination of parallax scrolling and single-page design. One can use the theme as a single page or a regular site with page URLs.
[highlight color="black"] 6. Magazine [/highlight]
A three-column theme, the Magazine theme used the intuitive drag and drop capability of the Builder. It allows you to build any kind of layouts at ease. The theme is both responsive and retina ready theme packed with many features all together.
Theme Trust is another example of provider with a beautiful collection of clean, minimalist designs at competitive low prices. Although they lack in the number department, we are pretty sure that you can find something appealing for your website. Also, if you are the emotional buyer type, you might not like the mystery surrounding the company's founder Henry Jones. The site was launched in August 2010, and it uses one of the latest themes, called the Hayden Theme. All themes are arranged in five major categories: Magazine, Portfolio, Responsive, Business and eCommerce.
Theme Functionality:
Most themes come with features such as home page slideshows, video support, custom widgets, button shortcodes, browser compatibility and translation support. In addition to this, all of them have basic theme options which enable the user to upload a logo, a favicon and apply custom CSS in order to change the theme' colors, fonts, posts, footers and slideshows. As far as theme graphics go, all of the themes are minimalist looking, with clean interfaces. What we appreciated about Theme Trust is the fact that they offer lifetime support for every purchased theme. It's great to see a theme seller trying to employ trends like flat design. Theme Trust has an understated and sober aesthetic that underpins its design, and little color is used aside from logos and demo images.
Price and Planning:
You can now buy two themes for the price of one.
Customer Service:
There are basically two ways in which you can get customer support: with the help of Knowledge base, and through the forums. The Knowledge base includes the theme documentation, demo content, and other helpful guides and tutorials. As far as the forums are concerned, they are moderated from Monday to Friday 8am-4PM, and closed during US holidays. If you are not a member of the USA you might find it difficult to find support. Nevertheless, the team is looking for more people to help out on the support forums.
Best Themes
A sleek news theme that will give your next blog a clean and professional appearance. Oracle gives you plenty of control, like easily setting your own color scheme or picking which categories to highlight on the home page.
An elegant portfolio theme built for showing off your work. This theme has a clean and professional style that is perfect for displaying anything from illustrations to photography. Easily build your portfolio with the numerous built-in page templates that give you the ability to create one, two, three, and four column gallery layouts.
A vibrant theme that will bring your business website to life. Quantum is packed with features including a built-in icon set and 16 color and texture combinations.